About us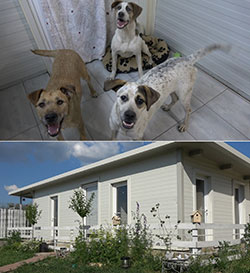 Howl Of A Dog is a small nonprofit animal rescue organization located in Romania.
We rescue abandoned, neglected, injured and abused animals from the streets and from over-crowded shelters, we offer them the medical care they need and find them loving forever homes.
To help reduce dog overpopulation which is a huge problem in our country and to prevent abandonment, we provide free neuter/spay programs and we also support and help low-income families pay for veterinary care and lifesaving medical treatment for their dogs.
At the same time, our efforts aim to build a more compassionate and responsible society. We want to raise awareness and show the world how amazing all animals are and how their unconditional love, loyalty and friendship can bring joy and happiness and improve the lives of their human companions.
Through the stories of our rescued animals we are trying to inspire and help humans learn to respect and protect the lives of other species we share this planet with, resulting in better lives for both the animal and human communities.
Many of the dogs we rescue are seniors or dogs with special needs that would otherwise have very few chances of surviving by themselves on the streets and would be usually scheduled for almost immediate euthanasia in over-crowded shelters from Romania. Being unfairly considered "less-adoptable" because they are old, blind, abused, traumatized or injured, these dogs wait for a home much longer than the average adoptable pet does, sometimes even years. For some of them, we may even be the only family they will ever have.
While waiting for their forever families, our rescued animals are provided with everything they need, from veterinary care and adequate nutrition to basic training and lots of affection. They even have their own parties, on Christmas and other special occasions!
All the animals we rescue are being fostered by us, at our house. They are accommodated in a very nice, clean and cozy facility that we built specially for them and they have a play yard and a large fenced-in area, with grass and trees where they can run and play safely. And of course, they also have full access to our house. They live with us as part of our family and are considered and treated as family members, being given all the love and attention they need to be happy.
Our commitment is to find the most suitable adoptive homes for the animals we save, where they will live happily, being loved and cherished. We also facilitate international adoptions and many of our rescue dogs found forever homes in the USA, Canada and Europe.
Howl Of A Dog does not receive any government funding, our life saving work relies entirely on the support and generosity of compassionate animals lovers like you.
Thank you for helping us give neglected animals the chance to live a better and happier life!
Diana Badescu, Co-Founder
Catalin Stancu, Co-Founder
Howl Of A Dog Organization
Registration Number 33570458, Romania
E-mail: contact@howlofadog.org
Website: www.HowlOfADog.org
Facebook: www.facebook.com/HowlOfADog
YouTube: www.youtube.com/HowlOfADog
Instagram: www.instagram.com/howlofadog
Twitter: twitter.com/HowlOfADog